Our Pizza
| | |
| --- | --- |
| Thin Crust | Hand Tossed |
| 10" cheese pizza $ 4.99 | 12" cheese pizza $10.24 |
| 12" cheese pizza $ 8.99 | 16" cheese pizza $14.49 |
| 16" cheese pizza $11.99 | 20" cheese pizza $18.45* |
| | *(hand tossed only) |
Toppings
10" - $1.25 per topping

12" - $1.60 per topping

16" - $2.00 per topping
20" - $3.50 per topping

(*denotes double topping)
Crusts
Thin Crust

Hand Tossed
Sauces
Pizza Sauce

Garlic White Sauce

Spicy Pizza Sauce

B-B-Q Sauce

Pesto Sauce*
Cheeses
Mozzarella

Cheddar

Ricotta
Meats
Pepperoni

Italian Sausage

Canadian Bacon

Fresh Ground Beef

Anchovy

Meatball

Breakfast Bacon

Chicken*

Axis Venison Sausage*
Veggies
Fresh Mushroom

Fresh Red Onion

Fresh Green Pepper

Fresh tomato

Fresh Garlic

Pineapple

Jalapeño

Black Olive

Green Olive

Artichoke Hearts*

Fresh Spinach

Banana Peppers
Create your own Pizza
1. Choose Crust Style
2. Choose Sauce & Cheese
3. Choose Toppings
---
Our Pizza Specials
10" pizza - $8.99

12" pizza - $13.25

16" pizza - $16.99

20" pizza - $32.50
Garden Delight - In a town so rich with gardens, this "Veggie Delight" is topped with the freshest medley of mushrooms, onions, green peppers, black olives and oven roasted tomatoes.
The Butcher Block - The "Meat Lovers Dream." Topped with generous portions of Italian sausage, Canadian bacon, pepperoni & ground beef.
The Kitchen Sink - A perfect balance of Italian sausage and pepperoni, complimented by our garden fresh mushrooms, green pepper, onions & black olives.
The Nimitz - In honor of our local hero Admiral Nimitz, we have created a pizza with pineapple, Candian bacon, green pepper & onion. A true taste of the South Pacific.
Luckenback Irregulars' Official B-B-Q Chicken Pizza - Our B-B-Q sauce combined with grilled chicken, onion, green pepper, jalapeños and mozzarella & chedar cheeses.
Double Cheese Burger Pizza - Our version of the cheese burger pizza. Made with fresh ground beef, onion, tomato and mozzarella & chedar cheeses. Hot peppers by request.
Spinach Pie - A pie Popeye would love! Fresh spinach and ricotta topped with fresh mushrooms, onions, and breakfast bacon.
Chicken Pesto - A pizza with the flair of the Mediterranian. Chicken with green olives, artichoke hearts, red onion and finished with our pesto sauce. OPAH!
East Coast White Pizza - A pizza with garlic, ricotta, mozzarella & tomatoes.
Lasagna Pie - A hand tossed meatball pizza with parmesan, ricotta & garlic. (16" - $18.35)
- Top -
---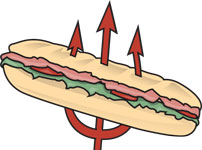 Sandwiches
6" - $4.99

12" - $8.99
Meatball Sub - Meatballs smothered in our marinara sauce and mozzarella cheese with your choice of red onion, bell pepper, black olive and jalapeños.
Philly Cheese Steak - Ribeye steak with white American cheese and your choice of onions, bell peppers or mushrooms.
BLT Sub - Simple as it is stated. Breakfast bacon, iceburg Lettuce and tomato.
Bar-B-Que Chicken - Bar-B-Que chicken topped with pickles, onions, jalapeños, and cheddar cheese.
Chicken Parmesan Sandwich - Chicken breast, fresh garlic, marinara & mozzarella cheese.

- Top -
---
Other Good Stuff
House Salad - Romaine lettuce with red onions, roma tomatoes, olives, bell peppers, fresh mushrooms and cheese.
Small - $2.99 / Large - $4.99
Greek Salad - Romaine lettuce with red onions, roma tomatoes, green & black olives, cucumbers, feta cheese & homemade dressing.
Small - $3.60 / Large - $5.99
Ceasar Salad - Romaine lettuce with red onions, roma tomatoes, Parmesan cheese & croutons.
Small - $3.50 / Large - $5.99
Salad Additions
Homemade Croutons 75¢
Grilled Chicken 75¢-sm / $1.50-lg
Pizza Rolls - Cheese or Cheese & Pepperoni served with Marinara or Ranch dipping sauce. (Add or substitute meat for 75¢ / add'l sauces for 50¢)
$2.50 each or discounted with every pizza purchase (4 - $6.00 / 6 - $8.00 / 8 - $9.50)
Buffalo Wings - Spicy, Mild, or B-B-Q - Served with Ranch. (add'l sauces 50¢)
4 - $3.99 / 12 - $7.50 / 24 - $13.85
Cheese Stix - Garlic cheese stix served with choice of marinara or Ranch dipping sauce. (add'l sauces 50¢)
10" - $5.50
-
Top
-